Business Success Luncheon- Oklahoma City - CANCELED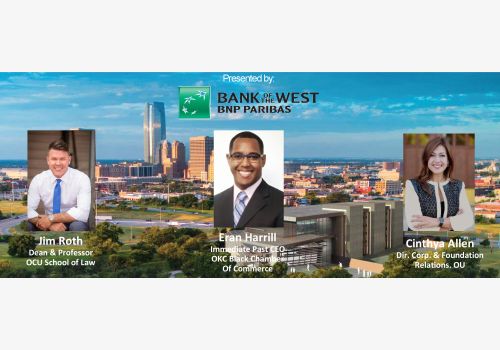 Event Completed!

When: Wednesday, June 03, 2020
Where: The Criterion | 500 E. Sheridan Ave., Oklahoma City, OK 73104
Time: 11:00 AM CST
This event has been cancelled due to Covid-19.

Join us for a luncheon with a prestigious panel of local speakers who will discuss the topic "Achieving Inclusion: Embracing Oklahoma's Diverse Workforce of the Future". Network with leading professionals and learn more about the impact Junior Achievement is having in the Oklahoma City Area to empower young people to own their economic success.
Need More Information?
For more information about this event, please contact
Jo Wise
Sponsors
Business Success Luncheon Sponsors
Become a Sponsor!
Sponsorships for these events are critical for Junior Achievement to continue providing life-changing programs to students in our community. These programs are delivered at no cost to students. You can make a difference in the lives of these students by participating in this world-class event! Contact
Jo Wise
to get more information on how to sponsor a JA Event!
"I saw the passion in their learning, & how it changed their lives & thinking of the world around them. I love JA!!!"
Diane Dang, Assistant Principal
"Junior Achievement reinforced concepts for me to remember later in life."
Junior Achievement Student
"I thought the experience was amazing. The presentation was unlike anything I've seen."
Junior Achievement Student
"Before JA Finance Park this stuff seemed impossible. Now it (financial independence) is in reach."
Finance Park Student
"[The benefit of participating was] knowing I'm providing a better understanding of what adult life will be like."
JA Finance Park Volunteer
"JA provided a solid foundation in leadership, economics and entrepreneurship as tools to achieve my goals."
Jay Calhoun, JA Alumni & JA Tulsa Board Member
"Junior Achievement has given me a sense of what adults go through with budget issues."
Junior Achievement Student
"Junior Achievement taught me that everyone can be successful if you really work hard."
JA Student
"I liked how the Junior Achievement volunteer explained his job to us."
Junior Achievement Student