Class Details and Information
October 31, 2021 - December 31, 2021
Volunteers still needed:
1 of 1
10/31/21 8:30 AM - 12/31/21 2:30 PM
Educator: Donna Hemphill
Virtual Class
Virtual Class. Time and dates to be scheduled with teacher.
Jane Phillips Elementary School
Featured Program
JA Our Community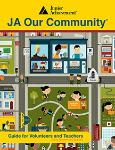 JA Our Community uses posters and games to offer practical information about businesses and the many jobs those businesses offer in a community. Students explore production methods through a simulation game, and they learn about taxes, decision making, and how money flows in an economy. (Grade 2)
Volunteer Resources
"I saw the passion in their learning, & how it changed their lives & thinking of the world around them. I love JA!!!"
Diane Dang, Assistant Principal
"Before JA Finance Park this stuff seemed impossible. Now it (financial independence) is in reach."
Finance Park Student
"[The benefit of participating was] knowing I'm providing a better understanding of what adult life will be like."
JA Finance Park Volunteer
"JA provided a solid foundation in leadership, economics and entrepreneurship as tools to achieve my goals."
Jay Calhoun, JA Alumni & JA Tulsa Board Member
"Junior Achievement taught me that everyone can be successful if you really work hard."
JA Student