Class Details and Information
November 30, 2021 - December 31, 2021
Volunteers still needed:
1 of 1
11/30/21 10:40 AM - 12/31/21 10:40 AM
Educator: Roxanne Boyce
10:40 am. Dates can be scheduled with teacher.
Owasso Ram Academy
202 E Broadway St
Owasso, OK 74055
Featured Program
JA Excellence through Ethics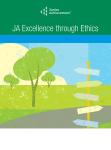 Through JA Excellence through Ethics, students will learn the importance of ethics and ethical decision-making and how ethical and unethical choices affect everyone in a community. (Grades 6-12)
Volunteer Resources
"I saw the passion in their learning, & how it changed their lives & thinking of the world around them. I love JA!!!"
Diane Dang, Assistant Principal
"Before JA Finance Park this stuff seemed impossible. Now it (financial independence) is in reach."
Finance Park Student
"[The benefit of participating was] knowing I'm providing a better understanding of what adult life will be like."
JA Finance Park Volunteer
"JA provided a solid foundation in leadership, economics and entrepreneurship as tools to achieve my goals."
Jay Calhoun, JA Alumni & JA Tulsa Board Member
"Junior Achievement taught me that everyone can be successful if you really work hard."
JA Student