Junior Achievement Program Evaluations
Junior Achievement prepares students to develop successful financial management habits, empowers them to explore the potential of becoming an aspiring entrepreneur, and provides them with the skills necessary to succeed in a global workforce.

In addition, external evaluations found that overall, elementary students who participated in JA began thinking about how the things learned in JA will be important later in life.

A significant amount of middle school students developed or improved their entrepreneurial, leadership, and decision-making skills. Furthermore, middle school students gained knowledge of financial literacy, work readiness, and entrepreneurship.

High school students who participated in JA agreed that what they learned the classroom is important to the success of their futures.

Research to date indicates that students engaged in JA are able to connect classroom lessons with real life experiences.

In general, students at all grade levels reported that JA fostered the attitude and provided knowledge that will help them set goals, seek out important information, and be successful.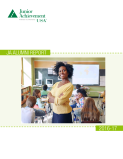 JA Alumni research Study: Higher Incomes/Educational Attainment for JA Alumni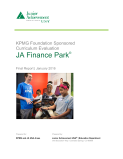 JA Finance Park Curriculum Evaluation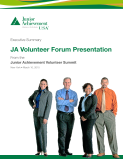 Meta-Analysis: JA Volunteer Model Leads to Positive Impact on Student Outcomes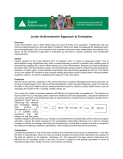 One Pager on JA's Evaluation Approach
Program Videos
Why JA - I Can
"I saw the passion in their learning, & how it changed their lives & thinking of the world around them. I love JA!!!"
Diane Dang, Assistant Principal
"Before JA Finance Park this stuff seemed impossible. Now it (financial independence) is in reach."
Finance Park Student
"[The benefit of participating was] knowing I'm providing a better understanding of what adult life will be like."
JA Finance Park Volunteer
"JA provided a solid foundation in leadership, economics and entrepreneurship as tools to achieve my goals."
Jay Calhoun, JA Alumni & JA Tulsa Board Member
"Junior Achievement taught me that everyone can be successful if you really work hard."
JA Student